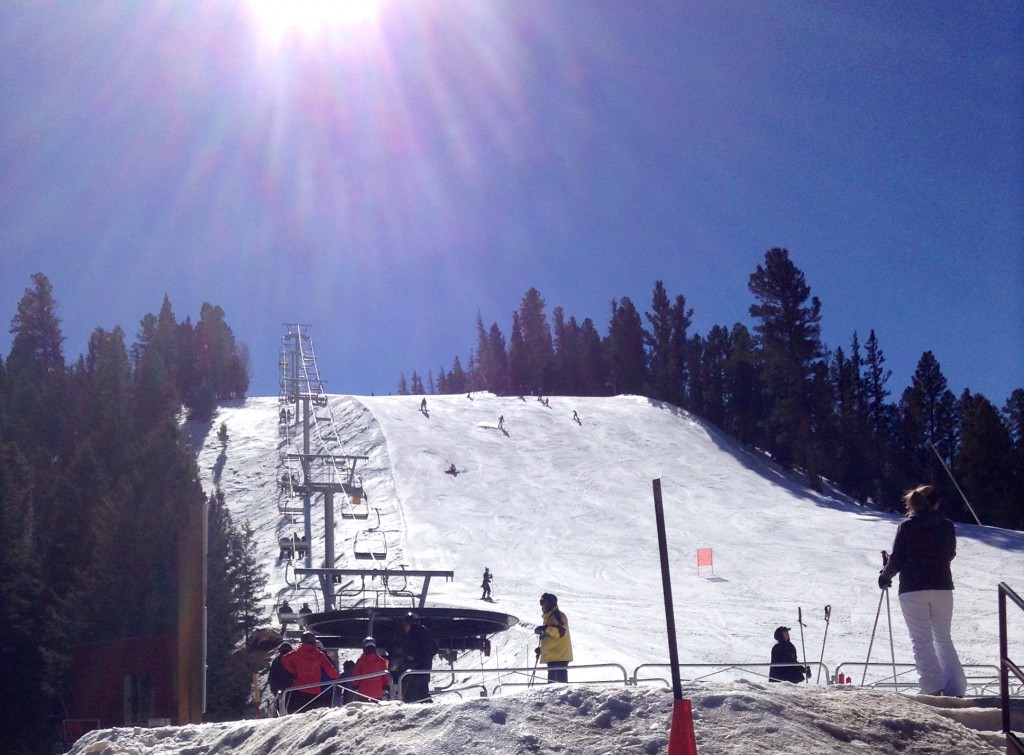 Tiny ice crystals sparkle like diamonds beneath my skis, framed by the brilliant turquoise heavens. The pure white yields gently as I hurtle myself downward with a soft swoosh,
breaking the silence around me.
My snowboarding boys ride a few runs over, carving new territory on black diamond runs. I find myself alone but the solitude wraps pleasantly around me. This gift of uninterrupted time allows me to revel in the wild beauty and reflect on
today's perfect gifts—
A wondrous landscape, the physical ability to ski through the winter wonderland , (which I thought was lost) and my family to share the joy with.
After a skiing accident a few years ago, resulting in a torn MCL, I am done with the difficult runs. I was determined to recover and continue the sport I adore, but I don't feel the need to push my body and average abilities to the limit. Buh bye breakneck speed.
I wear a perfect contentedness, sticking to what I know and what is comfortable, on a mountain I've had a relationship with for eighteen years. Like an old friend, the familiar trails welcome me on my yearly pilgrimage.
Ever the extrovert, solitude ranks low on the scale of what I normally seek. People, conversation and camaraderie I crave. In time I'm joined by my sweet girls, not quite ready for the boy's risky ventures, and I am thankful.
But I know
God calls me to commune with him alone,
When I do, I feel his presence and receive a whispering peace in my soul. I feel a void if I start my day without solitude with him.
So I rise before the others and sit at the table in the darkened condo. With laptop open, I quietly commune and listen to the lull of steady breath coming from the sofa bed.
Comforted by the soft morning sounds,
I smile as I watch the rays of dawn chase the shadows away.
**********
Psalms 65:8  The whole earth is filled with awe at your wonders; where morning dawns, where evening fades, you call forth songs of joy.
-Are you an extrovert or introvert? (do parties make you energized or tired?)
-How does your personality type pose challenges for you in your daily walk? What are the perks? Write a prayer of thanks for your type.