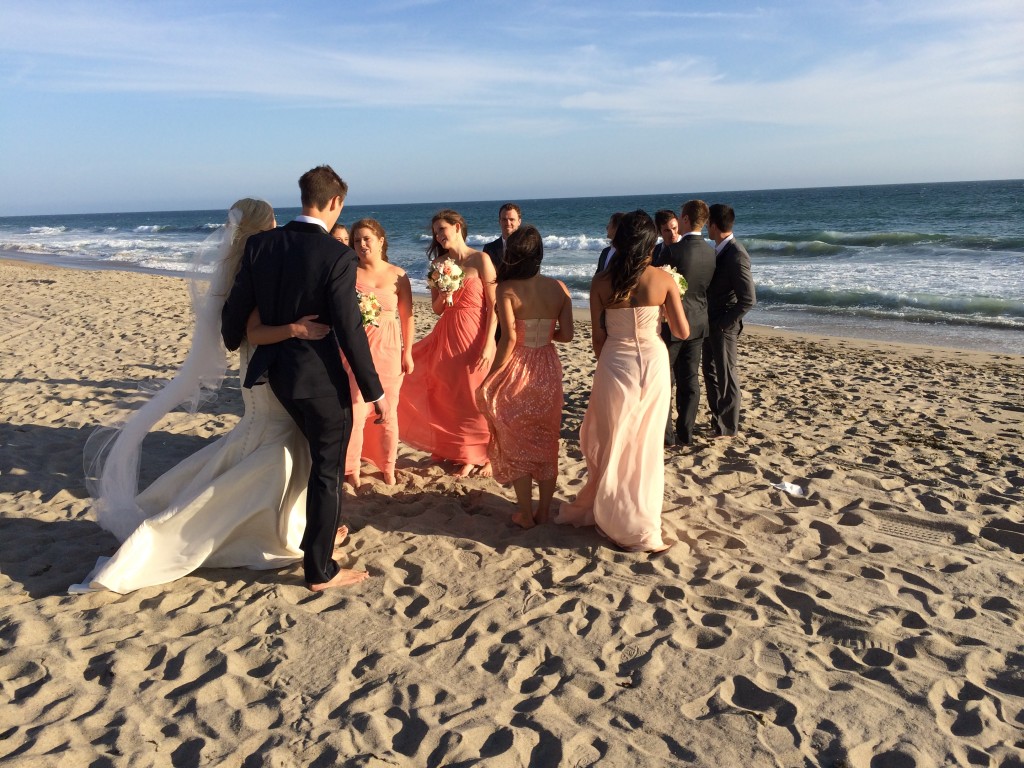 My mantra for the wedding weekend:
Just hold it together.
Don't cry.
At least don't do the red-nosed, blotchy-cheek, sob-thing.
Have fun! It's a joyful party.
If you sob like a baby, everyone will look a you and feel sorry for you, and that's the last thing you want.
You want the focus on the lovely, sweet bride and her handsome groom.
You want everyone to see how ecstatically thrilled you are to have this beautiful, kind and loving young woman in your family now.
The woman you've asked God to send for the last twenty-four years.
You are so proud of your son who waited patiently for such a wonderful match, baptized her in the ocean and is a faithful leader in his church.
So show it! You've spent blessed years raising, teaching, and nurturing him for this moment.
Focus on the joy!
Push aside the ache of memories of the little blonde boy now grown too fast.
So what did I do after I preached to myself several times? I prayed. And I prayed, and did I say I prayed? I wish I could say that I prayed first before I tried to do all the positive self-talk. I soon realized I would never make it through the day on my own.
I prayed over and over,
"Lord, help me to keep it together."
The wedding day started with worship, which he led. So, right away I was the emotional proud mama. As I listened to the honeyed words of praise flow through the mike and swirl into the air to our Lord, my voice hitched and I felt tears well up in my eyes.
But, I breathed deeply, and prayed silently and repeatedly. The love of my son and the love of my Lord entwined together, in that moment were almost too much for me.
After lunch he asked me to come see his new house, me only. Thrilled to have a little alone time with him, I wanted to sob on his strong broad shoulder and tell him passages were hard, but I was also beyond happy!
But, I refrained from burdening his tender heart, and confusing him with my mixed emotions of mother angst. So I just hugged him fiercely and told him I loved him, willing my voice not to crack.
The ceremony began like a whirlwind, matching the intensity of the winds and crushing waves. I prayed fervently for strength not to give in to my emotions.
Before I could catch my breath, I was seated and gazing at the wondrous sight before me. My sons, standing together as one supporting the other, the older, witness to the eternal vows of love and faithfulness from the younger.
A tear of joy, or two or three slid down my cheek. But there was no drama, no sobs, no unchecked stream flowing.
Wrapped in the purity and simplicity of the vows, the sights and sounds of God's creation cocooned around them, I forgot my struggle. I allowed myself to relax and be enveloped in the peace, love and pure joy wafting through the air.
God's gift to me and the answer to my prayers was not the absence of tears, but the ability to relax into him and enjoy the precious moments. He removed my fears by giving me his hand and whispering, "I am enough and I will always be enough, trust me and I will carry you through."
Then, He released the dolphins which danced in the background for the duration of the ceremony.
****************
Psalms 34:4 I sought the Lord and He answered me, and delivered me from all my fears.
-Think of a time you let your fears overwhelm you.
-Ask him now to help you work through your fears.