So many abandoned.
So many orphaned.
Tiny lost faces
A promising future in an emerging country—Interrupted. 
She found her first one when she was just a young unmarried woman. In a panic, she called her preacher father and said,
 "Dad, I've got a baby!"
"WHATTTT!??!"
"No, no, no, not mine! I've found it in a garbage can."
Just born, it was still alive, but it died a month later, never leaving the hospital. From that time on, she knew she would never turn them away.
But she would not fulfill that vow for many years. Educated at the University of Edinburg, she met her British husband Roger there, who would become a full partner in the Rwandan dream she would one day realize.
I met her briefly at church on our first day. Immediately captivated by her spirit and warm personality, I didn't realize until later, what a remarkable Rwandan woman I had just been blessed to meet.
When Faith invited us to visit their fish farm, I was eager to go and leave the bustle of the city for a while to explore the countryside. I had no idea what a treat was in store for us.
The bumpy, dusty road led us into a rural Africa I had pictured in my mind, far from the beautifully groomed city I was amazed by.
The mud houses clumped in villages— spoke of a hardscrabble life. They whispered of days that flowed one into another with little change from one to the next.
But when we entered her farm, we became witnesses to a greater love and compassion than we had ever seen in person before.
Their life in the United States had the look of success and contentment. They had two girls of their own and lived there more than two decades. Their final place was in the Silicon Valley, home of the tech giants and affluence.
But Rwanda was calling. 
A tiny seed of yearning began to sprout in her heart.
They left the comforts of the USA and returned to the land of her childhood, a land that had been broken but was resilient and beginning to blossom.
Business were needed to help build the country into an economic success. Good people were needed to return to their homeland and help.
So Roger's dream of having his own land and business was born in the breeding and raising of Tilapia.
And Faith got to return home.
One day a tiny naked toddler was dropped over their fence, and left there. She took her in.
Another's mother was dying and covered with sores, so they took that baby too.
When doctors and nurses found out she was willing, they began to call her to take in more abandoned and orphaned children.
She now has nineteen. 
She sighs, "I have to tell them I am full now when they call."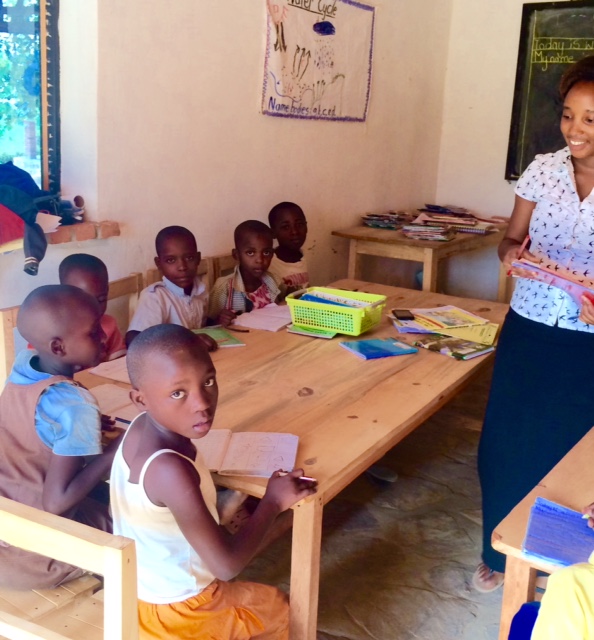 The last two were preemies so small that she didn't think they would make it. Now chubby healthy two-year olds, we loved playing with the three pre-schoolers while the other foster kids were at school. (When you have that many kids, you just hire a teacher and have your own school on the grounds).
We were honored and humbled to be in the presence of two people with hearts the size of the country they now call home.
Godly people who live the life of a servant and dish up hope by the bucket.
******************
Proverbs 13:12 Hope deferred makes the heart sick, but a longing fulfilled is a tree of life.
-We might not be able to take in nineteen children but think of how you can touch the heart of a child this week and do it.