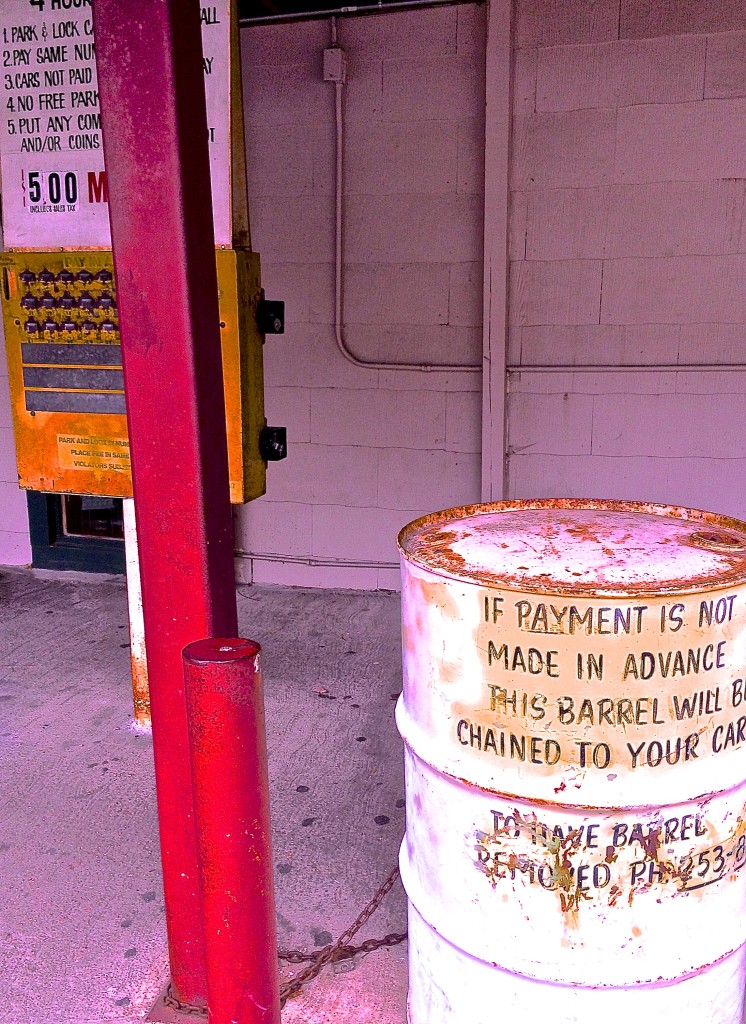 When I saw the barrel, I had to look closer to make sure I read it right. At first I thought it was a joke. Then I noticed an area where the words were worn away, as if the chains had actually scratched the letters off the surface: "To have barrel removed phone…" 
I guess they use it after all.
It sat as a convenient reminder beside the payment box which firmly stated "$5.00 minimum". Someone from the city of Eureka Springs had a sense of humor, yet wanted to get the message across.  Busted!
Do you ever think you can ignore a worry, and let it simmer beneath the surface long enough that it will eventually go away?
Of course you can handle it just fine, you tell yourself.
Then you wondered why your head throbbed, and your shoulders were tense and you were having such a hard time being productive that day.
So you reflect, only to find that you have a barrel full of worries chained to your back.
Worries about your job,
Worries about your marriage,
Worries about your children,
Worries about finances, aging parents, aging self, strained relationships, the future, the past,
Worries about life in general.
If we really thought about it, we could probably cover this page with worries in a heartbeat.
I'm really good at stuffing things down; the never ending work load, the constant remodel headaches, family issues, my friends with cancer, church responsibilities, etc…, etc…
Till I feel the barrel filling and have to cry out—HELP!
With each worry comes a chain wrapped around your heart and squeeze on your soul. Its no wonder that God says give me, give me–Pleaseeeee!
He is saddened when he sees us breaking under our load, when all we have to do is cast our worries on him.
His broad shoulders are strong enough to carry our burdens and soft enough for us to cry on. 
But when we ask, he will wipe our tears away and hand us a small exquisitely crafted box. Inside our gift, laying on it's blood velvet lining, is one simple word engraved in gold—
PEACE
***************
1 Peter 5:6-7 Humble yourselves, therefore, under God's mighty hand , that he may lift you up in due time. Cast you anxiety on him because he cares for you.
-What are your most pressing worries?
-Write them down, give them over to God in prayer and then tear them into pieces and put in the trash.